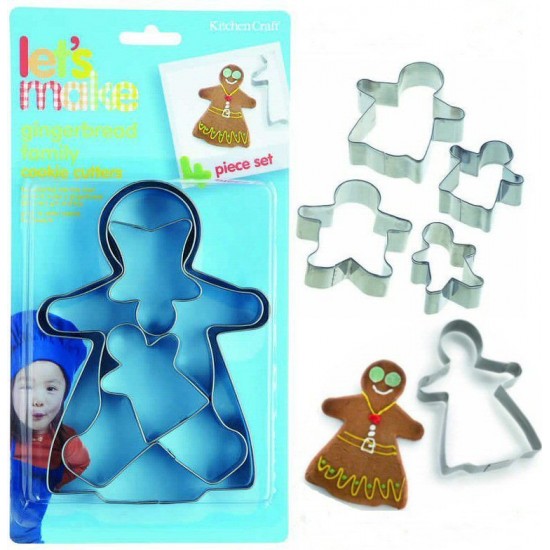 Limited Stock
Kitchen Craft Gingerbread Family Cutters- set of four

Quality Products
For Your Home

Customer Service
Happy to Help

Fast Delivery
Countrywide
Stock:

Limited Stock

Brand: Kitchen-Craft
Model:

KCLMGINGE

SKU:

B0065
This item is not available online at present but may be available in one of our shops.

Please see below where it may be available.
WhatsApp or Call us on 0714389495 for any inquries.
Store
Quantity
Warehouse - vituzote.com
0
vituzote.com at Junction Mall
0
vituzote.com at Yaya Center 1st Floor
0
vituzote.com at Sarit Center
0
vituzote.com PRO Shop at Sarit
0
Don't just settle for making gingerbread men, make a whole gingerbread family with these delightful cookie cutters from Let's Make by Kitchen Craft. Your child will love the variation of a gingerbread mummy, daddy and two little babies. Made from durable stainless steel these cutters are easy to use and dishwasher safe for effortless maintenance.
Suitable for children aged 3+ when supervised by an adult. Children should be prevented from handling hot mixtures and items. This product is not a toy and is designed especially for children to use in the kitchen and to help inspire the budding chef.
With the renewed enthusiasm to teach children how to cook, Let's Make from Kitchen Craft has all the essential items to make learning both fun and stimulating. Let's Make offers a selection of bright and fun essential kitchen tools and accessories with many items featuring high quality superior function and 100% unbreakable silicone. There is a wide range of children's cooking accessories including sandwich and cookie cutters, tools and gadgets, mixing bowls, fun shaped cake pans and attractively packaged baking and chocolate making kits.
Set of 4 cookie cutters to make a whole gingerbread family

Made of durable stainless steel

Dishwasher safe