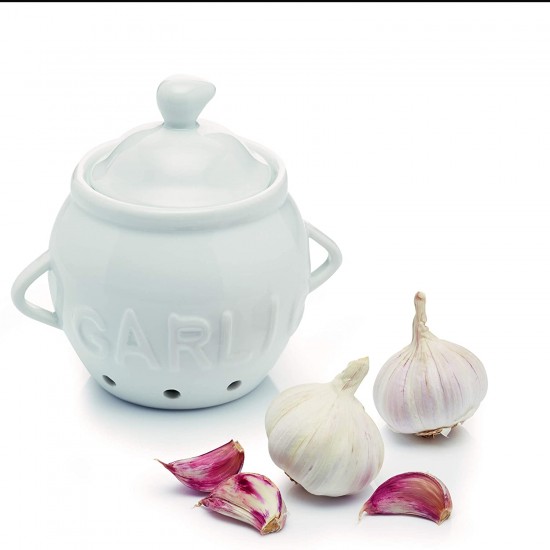 -50 %
Kitchen Craft Porcelain Garlic Storage Pot

Quality Products
For Your Home

Customer Service
Happy to Help

Fast Delivery
Countrywide
Tags:
kitchencraft
,
porcelain
,
garlic
,
storage
,
pot
,
organization healthy
,
living black
,
friday
,
2021 quality
,
sale bedroom
,
organisation
,
kcgarcer special
,
offers holiday
Make your bulbs last longer with this traditional garlic keeper.
When you want garlic to stay fresh for longer, where's the first place you put it?
The fridge, right?
Maybe that's not such a good idea. While the fridge is fine for carrots and broccoli, it can have adverse effects on garlic. Stow it in KitchenCraft's porcelain garlic pot instead, and it'll stay at its freshest and most flavourful.
Garlic loves dark and airy conditions, so this pot is like a palace for your cloves. The holes in the base allow air to circulate freely, while the sealed lid keeps light out. That's just what garlic needs to stop sprouting and stay free of mould.
With a classic look of rustic domesticity and a clean white porcelain finish, this garlic pot sits nicely on your kitchen worktop. It's also finished with 'GARLIC' embossing, so you'll always know what's inside. Just what you need when you're perfecting a spaghetti sauce, or preparing a garlic roasted chicken!
Diameter with handles: 15.5 cm (6 inches)

Diameter without handles: 13.5 cm (5½ inches)

Height: 10.5 cm (4 inches)

Dishwasher safe