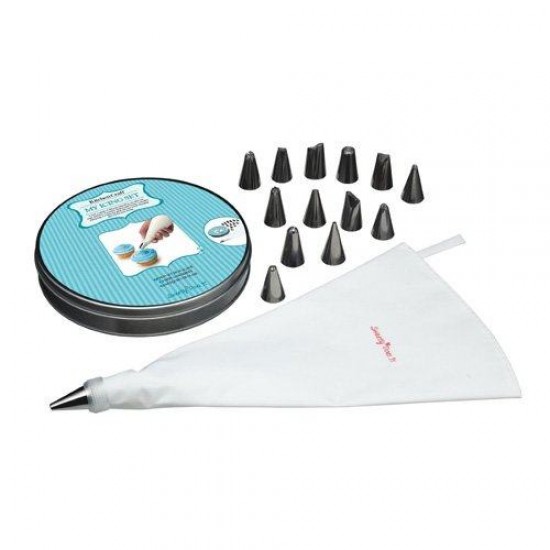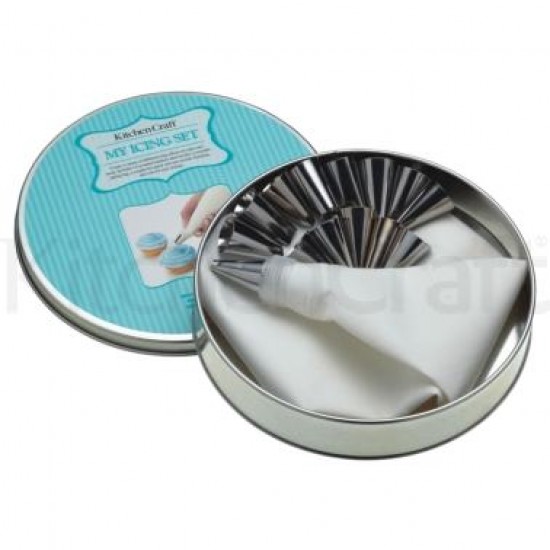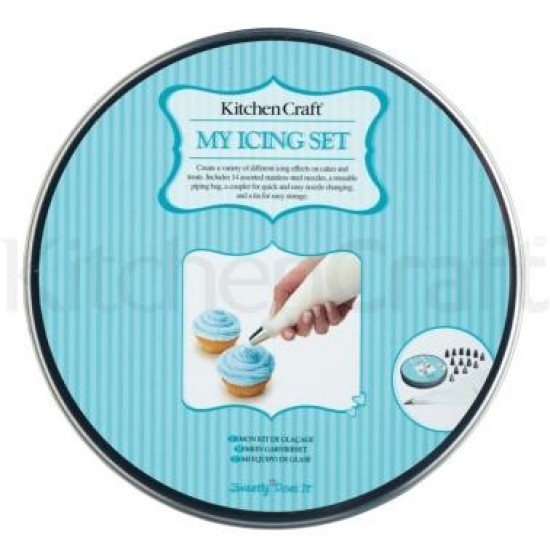 -19 %



Kitchen Craft 17-Piece Icing Tin Set ( 14 icing nozzles, 1 icing bag, 1 coupler + Storage Set)

Quality Products
For Your Home

Customer Service
Happy to Help

Fast Delivery
Countrywide
1,750.00 KES
2,150.00 KES
Ex Tax: 1,750.00 KES
Tags:
kitchen
,
craft
,
sweetly
,
does
,
icing
,
tin
,
set
,
piping
,
nozzles new
,
arrivals
,
baking 17-piece
,
bag
,
coupler
,
storage
,
set) black
,
friday
,
2021 special
,
offers
,
sdiiceset16 nozzles
This handy icing set has a selection of fourteen stainless steel nozzles, a coupler for easy nozzle changing and a reusable icing bag, all packed inside a slimline storage tin to keep everything together and always to hand when needed.
Size: 15.5cm (6")

14 stainless steel icing nozzles (3- round tips, 2-Basket weave, Petal-2, Open star-3, Flower-2, closed star-2) with a reusable icing bag

Storage tin

Nozzles and coupler are dishwasher safe

Icing bag is handwash only
Box Contains
14 x stainless steel icing nozzles (3- round tips, 2-Basket weave, Petal-2, Open star-3, Flower-2, closed star-2)
1 x reusable icing bag
1 x coupler
1 x storage tin
Coupler included!
This cake decorating gift set also includes a plastic coupler, which allows you to change nozzle quickly and easily without swapping the bag.
KitchenCraft Sweetly Does It Icing Bag Gift Set (16 Pieces)
Make your cakes, biscuits and buns even more mouth-watering with this piping set.
It's hard to resist slices of sponge cake with perfect buttercream swirls, sweet biscuits with artistic icing decorations, or sugary éclairs filled with fresh cream. Give in to temptation and make your very own with the help of this cake icing bag gift set.
The smart, slim-line storage case holds 14 assorted stainless steel nozzles, so you can experiment with different styles, and a durable, reusable piping bag, ready to fill with delicious icing or cream.
Nozzle size: 3 x 1.5 cm (1 x 0.6 inches)

Case size: 15 x 3 cm (6 x 1 inches)

Bag size: 28 x 18 cm (11 x 7 inches)

BPA free

Nozzles and coupler are dishwasher safe

Piping bag is hand-wash only
More Features
Nice and robust

The high-quality stainless steel nozzles resist rust and won't retain flavours. They should last you through many baking sessions to come.

Easy to clean

Pop the coupler and icing nozzles in the dishwasher to clean, and simply hand-wash the reusable bag.

Not just for icing

You can also fill this piping bag with mashed potato to top shepherd's pies or fresh, fruit coulis to decorate dessert plates.

A fine gift

It makes a great gift for anyone who loves to make and decorate their own beautiful creations. Or why not give it as a present from you… to you?
About Sweetly Does It
From wonderfully baked cakes to elaborately decorated sweet treats, Sweetly Does It from KitchenCraft has all the baking tools and decorating equipment to transform tasty treats into masterpieces for all to enjoy.
So let your imagination run wild, and decorate, frost and glaze your sweet treats and baked goodies with Sweetly Does It's extensive baking and decorating collection.