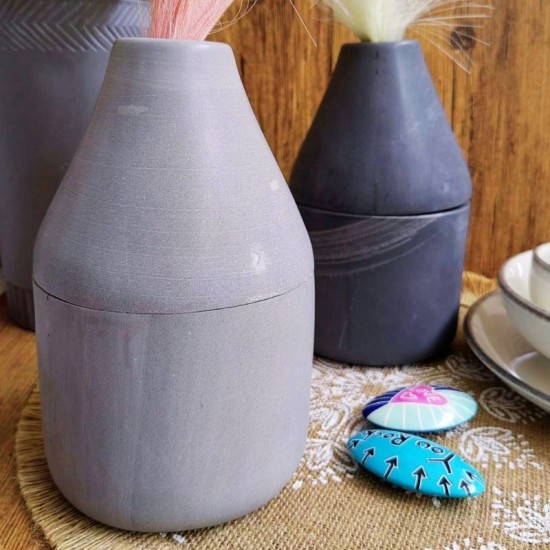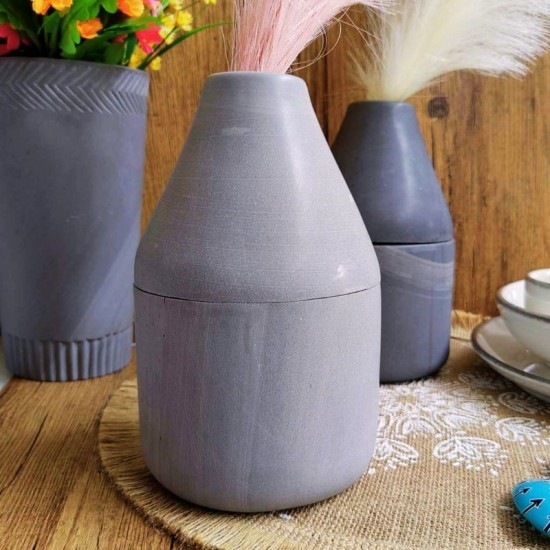 New -18 % Limited Stock


Undugu Bottle Shape Handcrafted Soapstone Flower Statement Vase, Grey Stone

Quality Products
For Your Home

Customer Service
Happy to Help

Fast Delivery
Countrywide
2,650.00 KES
3,250.00 KES
incl VAT
This item is not available online at present but may be available in one of our shops.

Please see below where it may be available.
WhatsApp or Call us on 0714389495 for any inquries.
Store
Quantity
Warehouse - vituzote.com
0
vituzote.com at Junction Mall
1

Add to Cart

vituzote.com at Yaya Center 1st Floor
1

Add to Cart

vituzote.com at Sarit Center
1

Add to Cart

vituzote.com PRO Shop at Sarit
2

Add to Cart
The unique bottle shape, chiseled from Kisii soapstone, reveals a harmonious fusion of sleekness and inherent luminosity. Each piece, embracing soapstone's natural variations, emerges as a distinctive masterpiece.

Features:
Artisanal Mastery: Dominic Achuti's meticulous craftsmanship infuses each vase with artistic brilliance, embodying a dialogue between creativity and precision.

Timeless Silhouette: The bottle shape of these vases introduces a timeless elegance to any space, effortlessly mingling sophistication and

subtlety.

Natural Aesthetics: Carved from Kisii soapstone, these vases personify a union of organic textures and luminous allure, inviting a touch of nature into your surroundings.

Individual Expression: Celebrating the inherent variations in soapstone, every vase is imbued with its own unique character, subtly manifesting through size and shade differences.

Versatile Charisma: As standalone art pieces or enchanting table centerpieces, these vases harmonize with diverse settings, leaving an everlasting impression.
Moreover, these soapstone accessories not only embody artistry but also stand for a socially responsible initiative. In partnership with Undugu Fair Trade Limited, these creations contribute to empowering artisans. With Undugu Fair Trade Limited, you're not just acquiring unique soapstone accessories; you're participating in a journey that uplifts communities and nurtures creativity.
This item is handcrafted and no two pieces are alike. Slight variations are normal and unique to each skillfully hand crafted item
Care Instructions
1. Handle with Care. Soapstone is delicate, so please handle them with care to prevent any accidental mishaps. You can place them on cushioned surface to avoid cracking when placing them on a surface.
2. Protect from Sunlight: Keep them away from direct sunlight to avoid fading and preserve their colors and intricate carvings.
3. Temperature TLC: Avoid exposing them to very hot or very cold environments as it could cause the stone to crack or get damaged.
4. Cleaning:
*Use a soft, dry cloth to dust and keep them looking fresh and clean.
*In case of a mishap, use plain water to clean. Skip the harsh chemicals and abrasive cleaners, as they can harm the stone's natural beauty.
5. Soapstone can absorb moisture over time, so avoid placing them in humid spots or in direct contact with water.
6. For those who want to go the extra mile, a light coat of food-grade mineral oil or beeswax can enhance their natural shine and offer extra protection.
Please note that the vases have been specially treated to accommodate fresh flowers. However, we kindly discourage using them for water, as soapstone can be sensitive to moisture. Instead, consider using a glass or plastic container inside the vase to hold the water for flowers.