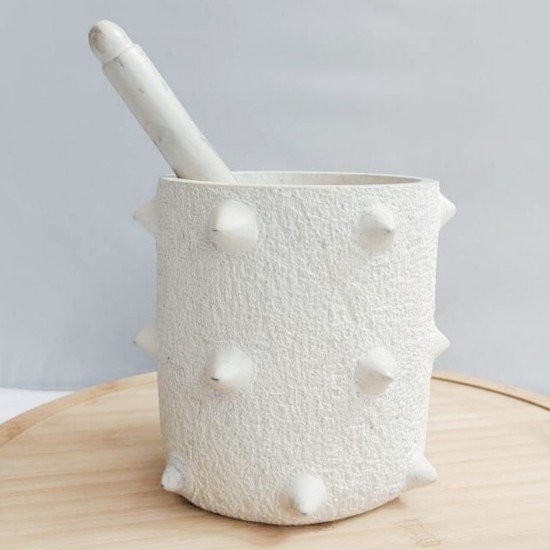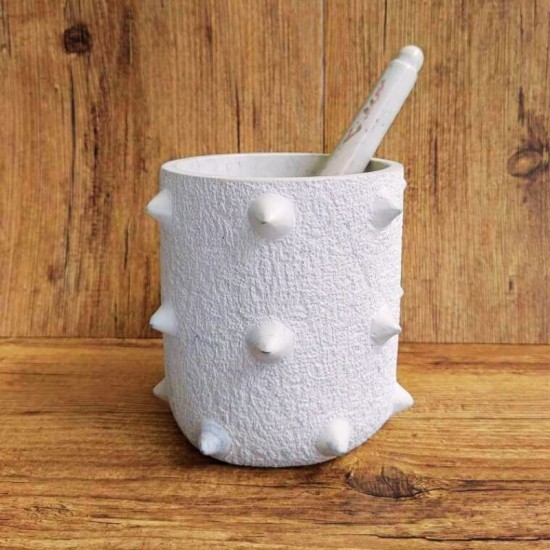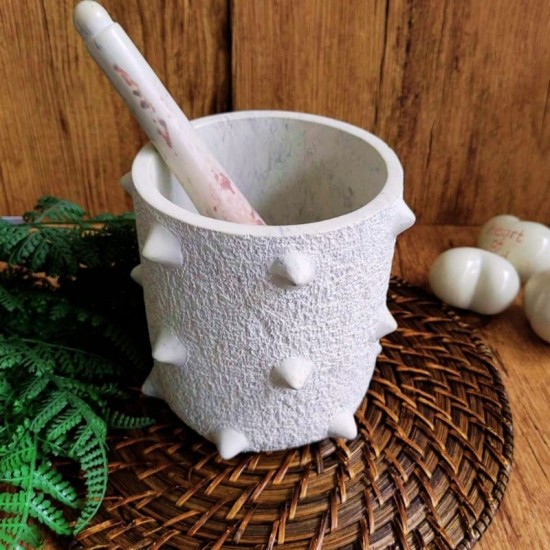 New -12 %



Undugu Mortar and Pestle, Malachite Handcrafted Soapstone

Quality Products
For Your Home

Customer Service
Happy to Help

Fast Delivery
Countrywide
2,450.00 KES
2,795.00 KES
incl VAT
A Mortar and Pestle is a very precious tool used for crushing and grounding food, herbs, seeds and other varieties of herbal and mystical medicines. Experience culinary refinement with the Malachite Stone Mortar & Pestle, a convergence of aesthetics and practicality. Skillfully curated, this set redefines your kitchen landscape. The mortar, boasting a circumference of 40cm and a diameter of 12cm, finds harmony with the 22cm-tall pestle, each element an embodiment of artisan mastery. The unique spike design all around give it an interesting Zen style. Because these are handmade items crafted from a varying natural material, each is unique.

Features:
Artistry Transformed: George Morara's expertise metamorphoses into functional art, turning this mortar & pestle set into a culinary work of

precision.

Culinary Creativity Unleashed: From blending spices to crafting fresh pastes, this set magnifies your cooking prowess, infusing your dishes with layers of flavor.

Aesthetic Flourish: The allure of Malachite Stone enhances your kitchen aesthetics, marrying practicality with artistic brilliance in a singular piece.

Gifts of Craft and Care: Beyond its culinary charm, this set encapsulates the essence of craftsmanship, making it a thoughtful gift that resonates with meaning.
Empowerment at Heart: By selecting this set, you support or partnership with Undugu Fair Trade Limited, becoming part of a movement that empowers artisans like George Morara. Your purchase doesn't just adorn your kitchen; it ignites transformative impact. Proceeds expand market access, nurturing both emerging and established producers, while also kindling hope through vital social initiatives.
This item is handcrafted and no two pieces are alike. Slight variations are normal and unique to each skillfully hand crafted item
Special note for MORTAR & PESTLE: Have been treated with a food-safe chemical to make them long-lasting and safe for culinary use. Feel free to use them for grinding spices, herbs, and other culinary delights. After use, clean them with plain water and ensure they are thoroughly dry before storing.
Care Instructions
1. Handle with Care. Soapstone is delicate, so please handle them with care to prevent any accidental mishaps. You can place them on cushioned surface to avoid cracking when placing them on a surface.
2. Protect from Sunlight: Keep them away from direct sunlight to avoid fading and preserve their colors and intricate carvings.
3. Temperature TLC: Avoid exposing them to very hot or very cold environments as it could cause the stone to crack or get damaged.
4. Cleaning:
*Use plain water to clean. Skip the harsh chemicals and abrasive cleaners, as they can harm the stone's natural beauty.
5. Soapstone can absorb moisture over time, so avoid placing them in humid spots or in direct contact with water.
6. For those who want to go the extra mile, a light coat of food-grade mineral oil or beeswax can enhance their natural shine and offer extra protection.