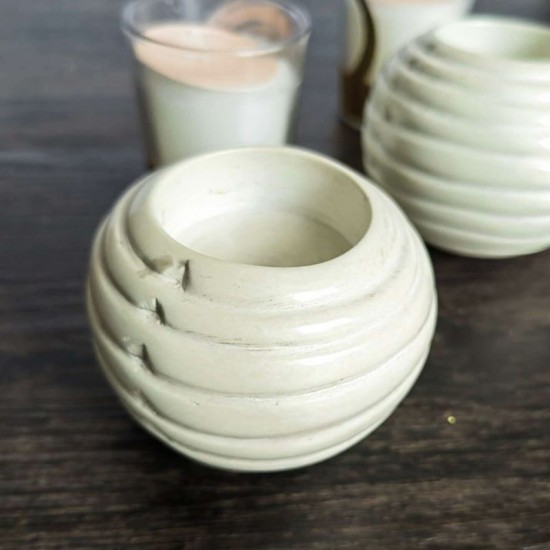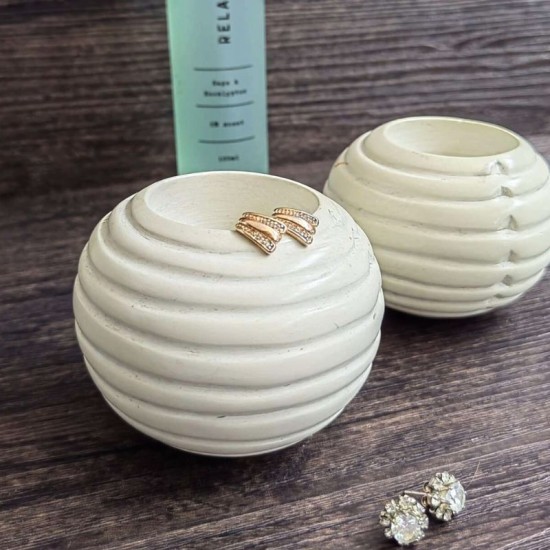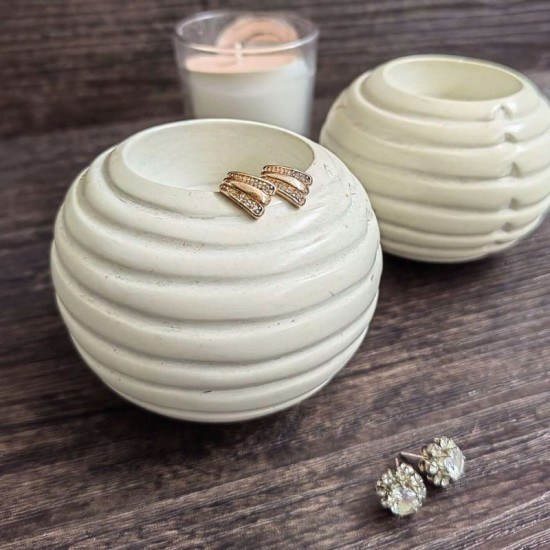 New



Undugu Groved Lines Round Soapstone Handcrafted Tealight Holder, Natural White

Quality Products
For Your Home

Customer Service
Happy to Help

Fast Delivery
Countrywide
This holder's beauty lies not only in its smooth, silky feel but also in the varied colors and patterns of soapstone, a tactile metamorphic rock akin to marble. As a sustainable material, each piece preserves the earth's uniqueness while elegantly complementing your surroundings. Proudly handcrafted in Kenya. As a natural material, its hues and patterns differ, giving your tealight holder a distinct identity. This connection to nature infuses your space with an organic aesthetic, offering a balance between modern design and earthy appeal. Present this tealight holder as a thoughtful gift for loved ones or as a gesture of appreciation.
Features:
The artisan behind our Grooved Line Tealight Holder is Harun Nyamweya. His story encapsulates resilience: from seeking urban dreams to finding prosperity in his rural roots through Undugu's transformative support.

Has an inner candle diameter of 7cm and a circumference of 24cm

Natural white soapstone enriched by grooved lines.
We are also supporting a social responsibility initiative, by partnering with Undugu Fair Trade Limited. You're not just acquiring unique soapstone accessories; you're participating in a journey that uplifts communities and nurtures creativity. Your purchase contributes to Nyamweya's inspiring tale, empowering him to build a soapstone legacy that educates his children and uplifts his community. The holder illuminates more than your space; it shines a light on the transformative impact of conscious consumer choices.
This item is handcrafted and no two pieces are alike. Slight variations are normal and unique to each skillfully hand crafted item
Care Instructions
1. Handle with Care. Soapstone is delicate, so please handle them with care to prevent any accidental mishaps. You can place them on cushioned surface to avoid cracking when placing them on a surface.
2. Protect from Sunlight: Keep them away from direct sunlight to avoid fading and preserve their colors and intricate carvings.
3. Temperature TLC: Avoid exposing them to very hot or very cold environments as it could cause the stone to crack or get damaged.
4. Cleaning:
*Use a soft, dry cloth to dust and keep them looking fresh and clean.
*In case of a mishap, use plain water to clean. Skip the harsh chemicals and abrasive cleaners, as they can harm the stone's natural beauty.
5. Soapstone can absorb moisture over time, so avoid placing them in humid spots or in direct contact with water.
6. For those who want to go the extra mile, a light coat of food-grade mineral oil or beeswax can enhance their natural shine and offer extra protection.